After a prolonged break from digging at Hallowe'en Rift due to other commitments we got back to work. Due to the conditions I decided to wear a plastic suit (rather tatty Petzl) slipped easily along the tube like a bar of soap. With my shiny new bar started to prod at the dig face, 'that sounds hollow' I thought. Removed some cobbles and a root to reveal a tiny gap, interesting, removed some more cobbles the gap got larger, getting very interesting, pulled out some larger cobbles and small boulders to reveal open space!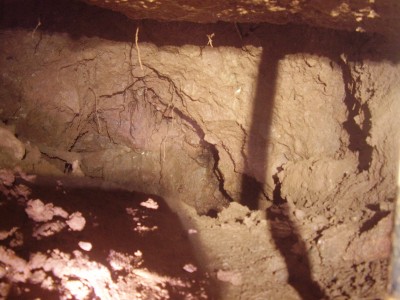 The image above shows the hole in the dig face, unfortunately the photos ain't very good! Passage height is about 0.30m and width about 1.00m.
After some more work removed a quantity of loose debris to reveal a clean washed rift/pot with abundant root growth. The top of the rift is too tight to allow entry and there is a lot of very loose boulders and sediment in the rift above – some serious gardening is required. The rift/pot appears to be about 1.0m deep to a maximum of 0.5m wide and a length 2.0 – 2.5m in length. It is possible that there is a continuation of the passage almost straight ahead, this will only be confirmed when the rift/pot is accessed. It looks very tantalising and exciting times are ahead – there are some seriously promising leads in this cave.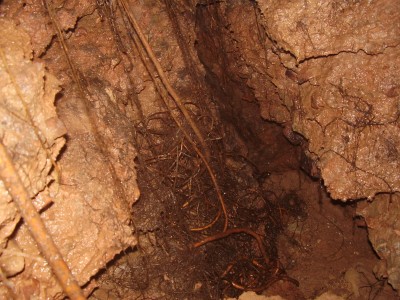 Looking down into the rift/pot. The main roots are about 12mm in diameter.
It's days like this that make digging so exhilarating – it's just such a buzz, I love it!
Of course we called in to our favourite hostelry for a little celebratory beverage.