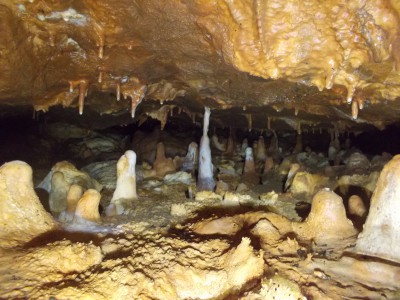 With Jake and Tav.
My turn to dig this session as I will be out of action for a couple of weeks or so after some surgery to sort out my dodgy elbow. Jake took up the clearing away role while Tav did the haul and shuttle.
The digging isn't all that rapid as the fill comprises mostly compacted, cemented silt, sand and gravel with numerous cobbles and boulders. Wrestled for a while with one quite large boulder that, later required a combined effort to get it up to the surface. Tav used some of the spoil to fill in some holes along the approach passage that were result of hauling the skip, Jake spent some time gardening the longer haul route we had created last session, must be c.15 metres up to the dig.
24 bags were hauled out to the surface, 8 had been used for repairs, 11 skip loads of assorted rocks and 1 large boulder, there is still the even larger boulder at the bottom of the entrance awaiting removal.
The images above and below are of the formations we have managed to dig around and preserve in Merlin's Magic Milk Parlour.