Jake, Tav, Nick and Matt.
Tav and Jake took turns at the dig face, Tav taking the first stint; I did the hauling; Nick on the shuttle with Matt on the surface.
Nick hauling back a skip loaded with rocks and a bag [click on image to watch video].
I don't think Matt realised just how much work there would be after Wednesday evening's blast. Rock and gravel was coming from the dig face at a good rate of knots for over an hour, every skip I hauled back was two or more skip loads out to the surface. Some of the larger rocks almost overfilled the skip and Nick reduced these in size with some mighty swings of the sledge hammer.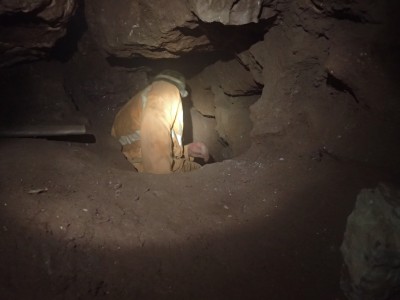 Jake works at loosening another boulder.
At the end some good forward progress had been achieved and the end still looks interesting. Another blast will be required in the week which will increase the working space and allow a better look ahead.
Matt looked a little shell shocked at the end of the session but happy. Refreshments at the hostelry were well earned today.