With Jake, Nick, Tav, Jonathon, Matt, and Alex too! Although Alex went off to do his own thing for a while he joined us later to haul-out a few bags.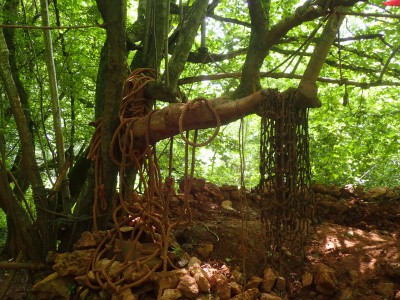 Nick, Tav and Matt headed up to the end to start filling and stashing bags in the Tuck Shop, Jake, Jonathon and me, cleared the rocks that were stacked at the bottom of the entrance. That done, Jake and Jonathon went on into the cave to start clearing bags. I busied myself on the surface, wall-building and having a general tidy-up, packed up the empty bags, moving stone around, etc.
The bags arrived at the entrance at a nice steady rate, giving plenty of time to haul-out, empty and hang the bags to dry.
It was very pleasant in the warm sunshine, and the flies weren't too much of a nuisance yet, but I did wear a hat, just in case.
Forty-two bags were filled and emptied, along with 14 skip-loads of rock.
The news from the end wasn't full of enthusiasm, which is disappointing, apparently there is a 'calcite' blockage impeding further progress. I really should have kitted-up and gone along to the end to see for myself, but I didn't. Hindsight, as they say, is a marvellous thing. I will have to try and sort something out for the week ahead.
Right now, it was pub-time!