With Jonathon, Nick, Jake and, eventually Brockers, who turned-up later.
A morning start, as we were all off work during the winter festivities. Plenty of ice and some snow on the hill, so Jake met us at the farm, not good weather for motorcycles.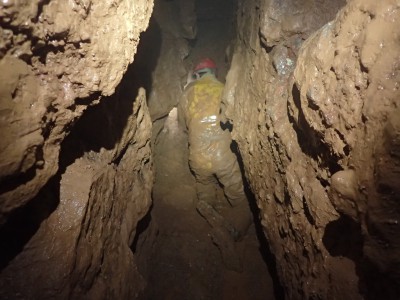 Jake digging, I was clearing the bags and stones in, probably, the drippiest part of the cave, Jonathan on the slope. Nick, after replacing the skip on the haul and shuttle, was on the top of the slope.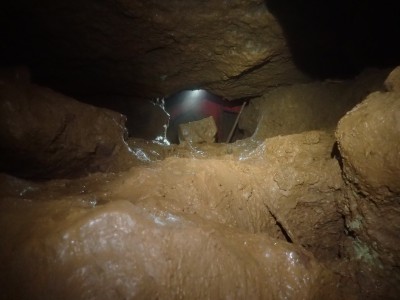 Initially, the bags were stacked on top of the slope until Brockers turned-up, the spoil was then transferred to the bottom of the entrance rift. Each bag when filled, soon turned into slop, it was not going to be fun extricating the sediment from the bags after they had been compressed. Fifty bags (5 packs) filled, it was time to go and clear-out the spoil. Jake, however, remained for a while to mix some cement with sediment and fill an annoying hole that impedes the skip. Hopefully, the stabilised sediment will have hardened sufficiently by Saturday.
In the meantime, the entrance was cleared, the bags were emptied, everyone out, the cave secured, it was time to go. Another squalid session over, good progress being made.