With Jake, Jonathon and Tav.
A smaller team assembled at the Hunter's on another wet Saturday morning, ready to go digging.
At Hallowe'en Rift, while I opened the gate, the others packed bags prior to going underground. Jake, then went ahead to start bailing before digging, there were a few bags at the end left-over from Thursday evening. Jonathon was next in-line, clearing the filled bags and occasionally rocks, along Another Emotional Journey, loading the skip to Tav.

The haul through from Another Emotional Journey. Photographed by Mike Moxon.

With the smaller team size, Tav had the double-handling task of hauling the spoil from Jon, then up the slippery slope to transfer the spoil to the skip down to me, on the haul and shuttle.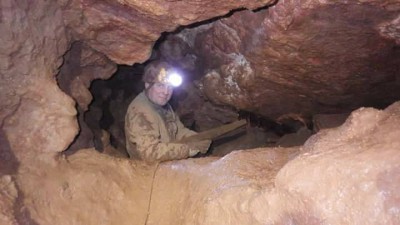 Brockers at the top of the slope. Photographed by Mike Moxon.
The bags were then, stacked neatly in the entrance rift ready to be hauled out later, the few stones were put to one-side. A steady pace was maintained through the session, some of the bags seemed like they were going to be a joy to empty. Then, it was time to all move back and clear the spoil from the cave, up-top it was still raining but not too heavily. We took it in turns to haul the loaded skip up the rift, the rope wet and very muddy, making it slippery and difficult to grip. Once on the surface, the bags weren't too much of a problem to empty. The count for the session was 49 bags (or 50, if you prefer rounded-up numbers) and a few skip-loads of stones.

Jon in Another Emotional Journey. Photographed by Mike Moxon.
As it did on Thursday, as soon as we were back at the shed, it rained heavily. Time for the pub, then rugby (6 Nations).