With Roz, Nick, Mike, Tav, Jon, Brockers,
Duncan and Alex.
Photographs by Roz.



A big group assembled tonight but, plenty of
room in the cave. Between us we dragged enough kit to rig several pitches. Nick
leading the way followed by Mike and Roz, the rest of us were in the cave on
Saturday when the breakthrough was made. They were impressed.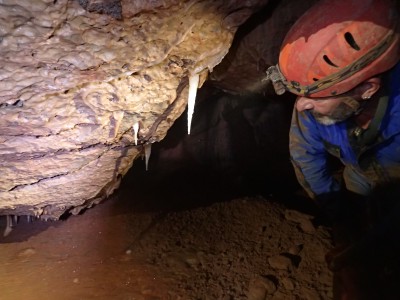 At the rift, Nick and Mike descended to the
jammed boulder, while Brockers and I put in a bolt and tied-off another
hand-line (later, a ladder was put in place). We then descended to the jammed
boulder, bolted and rigged a ladder and line for the descent to the bottom of
the rift. Nick descended first. From the bottom of the ladder, a steeply sloping
floor goes down northwards. The floor is comprised of very loose, very
shattered calcite flowstone and other formations, probably the result of earth
movements (or frost shatter). The way on is choked, more digging will be
required yet. We spent some time removing several boulders, cobbles and gravel,
a gap can be seen and there is good air movement. We can remain optimistic.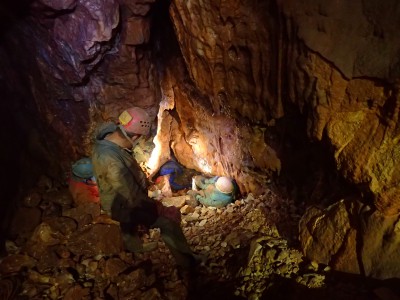 Meanwhile, Duncan and Tav were surveying the
latest discovery, c.50m of passage, this brings recent progress to c.90m, good
going!


When the team had had their fill, photo's
taken, it was time to exit. It's a proper caving trip now. To the Hunter's for
refreshments, of course.