With Jake, Jon,
Nick, Duncan, Brockers, Tav and Mike (Moxon)
After digging last
weekend, Jon was on the surface with Jake, who managed to add some more stone
to the wall, but spoil is required to back it up. I was at the bottom of the
entrance, Nick took up position at the junction.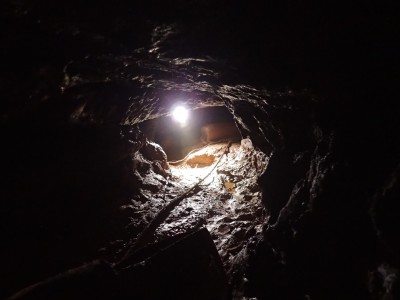 Nick at the
junction, viewed from the bottom of the entrance.
Tav headed down to the "soft" south with an array of new
implements he had purchased from 'Proper Job', a good source for cheap digging
tools. Mike, on light duties following some eye surgery, was in the small the
small "chamber" just beyond the former pinch-point. That left Brockers and Dunc
"up-front", surprisingly, after a dry week, the pump was required, this took
some time to assemble and drain the water away. A miscalculation in the
drainage route resulted in the south passage, downslope from the north,
suddenly becoming much wetter. Some hasty readjustment of the pipe allowed the
water to drain elsewhere.
Soon, the "lake" was
"dry", digging was underway. Earlier in the session there had been some time
for quiet contemplation, this was soon to end as the bags and rocks began to be
shifted through and out of the cave. Jake and Jon rotated the hauling and
emptying roles, 115 loads of bags and rocks were brought out to the surface,
and there are still rocks left at the bottom of the entrance, including a
rather large one. Its "twin" had been removed with some effort earlier.
On their return
from the north, Brockers and Dunc were cold and a little grumpy, which was of
some amusement to the rest of us. It was obvious from their attire that the
north had been just a little bit squalid. Still, nothing that some refreshments
at a certain local hostelry wouldn't sort out.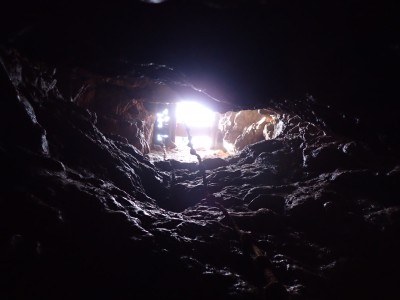 Looking up
out of the entrance.