Vince, Nick, Jake, Duncan, Jon and Tav.
A grey, overcast morning but it seemed that the heavy rain had passed over and would not spoil the lunchtime picnic.
Morning session, me and Nick digging, Jon and Tav clearing away, Jake and Duncan on the surface. We decided to start removing the lower bench to widen the "chamber" at current floor level, this requires that the mid-level bench be re-cut (a task to keep Nick occupied). With the so much spoil being removed and quickly too the expansion of the "chamber" in the Soft South is clearly visible, almost as you dig! There was an interesting moment as a large slump of material occurred, resulting in plenty of stuff to bag-up. Will need to be more careful when undercutting the dig-face. About 100 bags filled plus rocks, a natural pause, it was time for a break. To the surface for lunch.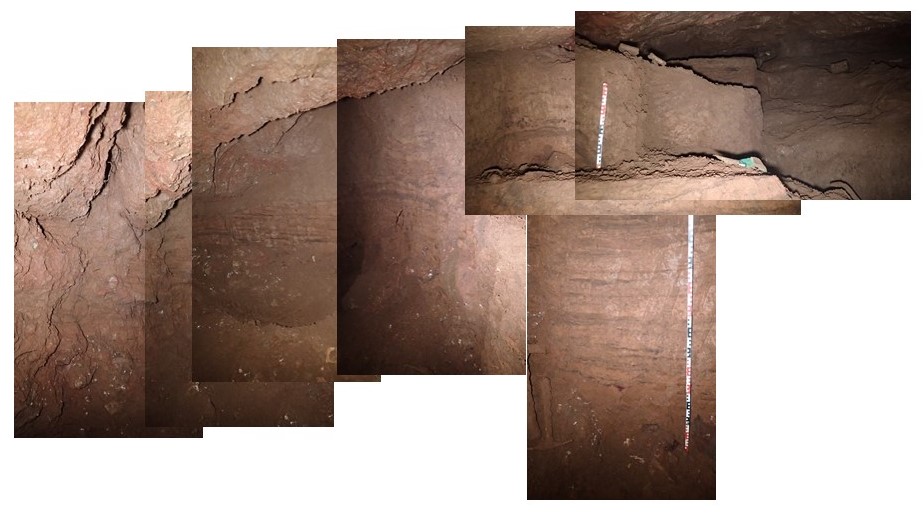 Afternoon session, Jon and Tav took over the digging, Jake and Duncan clearing away, leaving me and Nick on the surface. The hauling and bag emptying tasks on the surface were split, 50 bags then swap around, made it a bit easier on the back. The bags were hung-up on the lines to 'dry' out, some were getting quite claggy. It was another productive day and 200+ bags were filled plus a quantity of rocks to be added to the wall sometime.
Photographs were taken at the end of the session, the cave secured, and we left for our respective homes.