With Tav.
Had to climb over the farm gate as it was locked and headed over to the shed to change. It didn't take too long to get changed and up across the field to the cave. While I opened the lock Tav packed up 20 bags ready to head off to the end. At the present end of Merlin's set about digging away and filling bags (click on image below to see Tav's digging style) and I hauled the bags and assorted rocks down to the top of the pot to be removed later.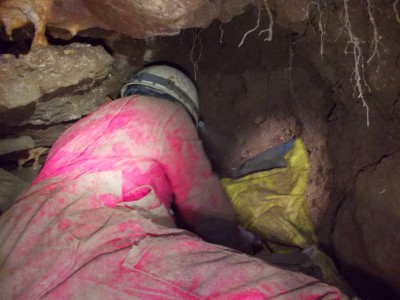 The beauty of this dig is that at the end of each session the forward progress is noticeable. Tav had expanded the small opening overhead that Nick had exposed last week and there are a couple of options for further progression, enough to keep it interesting.
When the bags were all filled we shifted position to remove the spoil to the base of the entrance prior to hauling out to the surface. We ended the morning by clearing out our spoil for the day plus some of the accumulated rocks that had built up over the last few sessions. Bags all emptied at the end of another productive digging session, a total of 20 bags and 11 skip-loads of rock out to the surface, we headed down to the farm, ready for some refreshment, it was quite warm and humid, and we were thirsty.