With Jake and Alex.
Me digging, Jake clearing and Alex doing the haul and shuttle to the entrance. We started off by clearing the loose rock debris from last weeks 'capping'.
Jake's hands are a blur as he shifts back the loose rock debris!
Then I got the bar to work levering out the fractured rock that was still in situ. Eventually managed to drop two large lumps that required further reduction so asked for the capping gear to be sent up. While waiting for the bag to arrive I set into one of the boulders with the lump hammer and managed to split the rock. I was surprised to see that it comprised entirely of flowstone, the various banding clear evidence for a succession of formation episodes.
Those rocks cleared I moved forward to clear some loose rock from a narrow rift that had been exposed and then detected cool air movement with more open space beyond, not massive space but compelling. Much of the blockage in the narrow rift had been caused by detached, degrading calcite flowstone. After some effort a better view was gained and the space c.2 metres length is looking interesting indeed with a good draught. Jake came forward to have a look and confirmed my initial findings.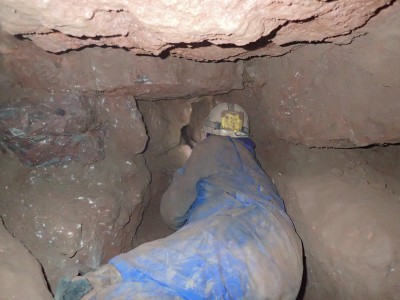 Vince reaches forward in the narrow rift to clear out some more of the blockage.
The rift appears to widen to the right hand side lower down and it seems like the best way to proceed would be to lower the floor half a metre or so. To the right there appears to be some large boulders that can be reduced in size and subsequent removal will create working room.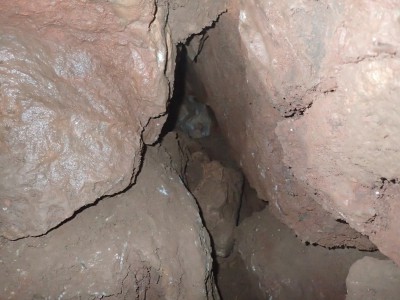 The way ahead!
Time was moving on so tidied up the loose spoil and made our way out to clear what was a considerable pile of rock stacked in the entrance. We didn't count the number of skip loads but Jake's back indicated it was c.40-50 and probably the best part of a ton, there were 10 bags of spoil too.
A sign of the times is when the conversation goes along the lines of [quote from AG] "I've had some f*****g good tomatoes this year", gone are those day's when it might have been "I had a f*****g good time last night 18 pints and…"
The cave cleared, bags empty, it was time to head back down to the farm, then the rain decided to fall. We got changed and headed up to the Hunter's Lodge Inn satisfied with our mornings effort.