With Jake and Tav.
Jake digging, Tav clearing away, me on the haul and shuttle. Digging was fairly steady so had a little time to mess around with the new camera.
The Tissue (Triphosa dubitata). This species is often seen in caves and is a regular sighting in Hallowe'en Rift.
After about 20 loads of rocks and bags were shifted back and stacked in the entrance a message came back that there were a couple of largish rocks that required some reduction. Jake and Tav came back to clear the spoil out to the surface while I headed up to the end with the capping gear.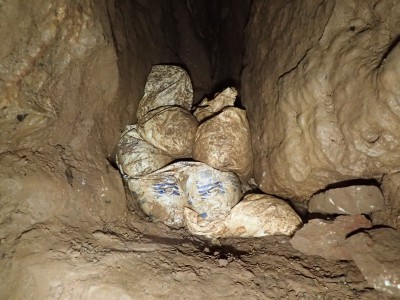 Bags and rock are stacked in the entrance shaft ready to be cleared to the surface.
At the end drilled a total of 5 holes, after each hole was drilled it was then 'capped' and the resulting debris cleared to one side ready for the next hole to be drilled. The rocks suitably reduced/fractured it was time to pack up and join the others on the surface and to make our way, eventually, back up the hill to the Hunter's Lodge Inn.