With Jake, Nick and Alex.
On the way down the Old Bristol Road we dropped Alex off at Ivy Cottage as he wanted to walk along the hillside to Hallowe'en Rift, the rest of us continued to the farm where we changed and made our way up to the cave.
At the end of Merlin's Nick was digging, I was clearing away the filled bags and rocks placing them into the skip for Jake to haul them up the slope. When we had amassed a good pile of bags and rocks I went up the slope while Jake went back to the haul and shuttle, Nick continued digging. Alex had turned up at the entrance and was busying himself adding to the drystone wall. The filled bags were emptied, then Jake and I went back to clear the next pile Nick had created. Repeated the procedure.
When that stack had been cleared away Jake remained on the haul and shuttle. Nick loaded the skip at the bottom while I hauled it up the slope and loaded the bags and rocks into the next skip for Jake to haul and shuttle to the entrance. Eventually the pace slowed and I took the opportunity to take a good look at the end.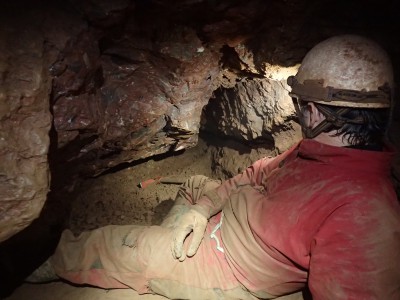 There is clear layering in the sediments. Above the dolomitic conglomerate there is a layer (A) comprising very compact red silty clay that has a base load of gravel in small pockets, some of the gravel is rounded with an oxidised coating perhaps suggestive of stream flow. At the top of (A) is a layer of degraded, fragmented flowstone (B), possibly this once sealed (A). Above this (C) compact, sometimes loosely compacted, silty sand that appears yellow-brown in underground lighting. It is red-brown on the surface but has been mixed with (A).
Ahead c.2.5m the open fissure gains height and appears a bit wider, and there is good air movement. The fissure is, currently, heading in a westerly direction. The prospects seem to be encouraging.
We thought it might have been a bit slower digging today but still managed to shift 58 bags and several skip loads of rock out to the surface. The entrance is clear of bags, the benefit of an extra pair of hands at the surface, so no reason for a midweek trip. We'll probably go into Wookey Hole instead and continue the wall building there.
To the pub in some fine Mendip 'sunshine'.