With Jake, Nick and Tav for the last digging session of 2016.
Nick's turn up front to clear the rock debris and continue the digging, my job was to haul the loaded skip up the slope and transfer the load to the next skip down to Jake, on the haul and shuttle run to the entrance. Tav was on surface duties this weekend, hauling up the bags and emptying them and distributing the rock debris on the ever-growing spoil heap.
At the start of the session, while Jake attached a new skip, I went down to join Nick and reduced a large boulder of dolomitic conglomerate into more manageable, skip sized pieces with the sledgehammer.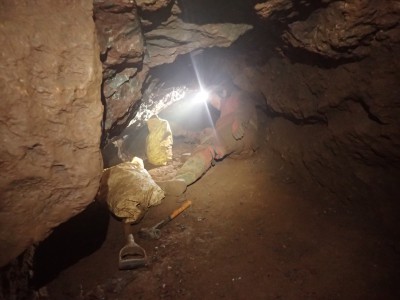 After we had shifted all the rock debris out to the surface, Nick started to dig out some of the sediment that blocks the way forward. To ease this process, we all moved forward, as Nick filled a bag, I removed it and loaded it into the skip, Jake hauled it up the slope, loaded the other skip to Tav, now on the haul and shuttle. This was a bit unfortunate for Tav who had decided that he wouldn't require any knee-pads as he was on surface duties.
When all the bags had been filled, Jake came down to look at the progress and to peer into the space beyond.
There was now a pile of bags and rock in the entrance ready to be cleared out and emptied. That done, the cave was secured and tidy, ready for the next session in the new year. Hopefully, I can get something sorted for a midweek foray.
A crystal filled geode recovered from this weeks spoil.