With Nick, Tav, Jon, Brockers, Jake, and Mike
A full complement of fit, able, and willing participants this weekend and all were ready to shift some spoil! From the farm we headed-up to the cave with some new hauling buckets I had made this morning and full of the usual enthusiasm.
Down in the deep Soft South/Trick or Treat area, Nick busily swung the mattock, loosening sediment, and filling bags, I was clearing away the filled bags and sporadic rocks and moving the spoil up and over to Tav. The spoil then loaded onto a drag tray to be hauled away by Jon where it was transported along the passage to be hauled up to the ledge by Brockers. Mike unloaded the bucked from the ledge transferring the spoil to the next skip to be hauled away by Jake where it was temporarily deposited at the base of the entrance. As the morning progressed and the available space near the entrance began to fill, some of the team moved positions and the spoil hauled out to the surface ready to be redeposited onto the spoil heap.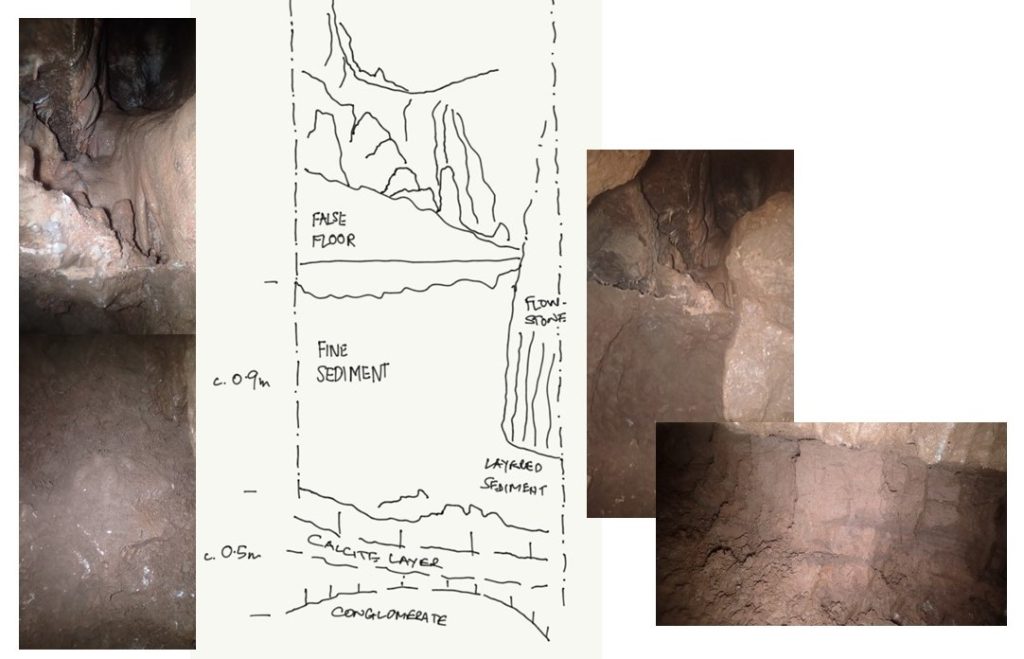 The current dig-face looking NE, over the calcite is the original point of entry to Trick or Treat
At the dig-face, Nick continued to fill bags, about 140 for today's count plus numerous rocks and lumps of degraded calcite/flowstone. Currently, we are working underneath a false floor, removing fine (layered) sediment that overlies another calcited floor comprising flowstone, stalagmites (some detached), and calcited rock (cobble- and boulder-size) and finer sediments. This in turn, overlying solid rock (conglomerate). The prospects of what might (or might not) lie ahead was a constant topic of conversation throughout the session. Much consideration regarding deposition processes and speleogenesis was undertaken. There are many things to ponder as we dig.