With Jake, Nick and Matt.
On arrival at the end, the way ahead was now obstructed by a pile of rock, Thursday's effort had been effective.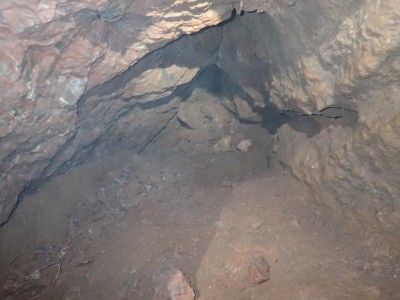 I was upfront, Jake cleared away and loaded the skip, Matt hauled it up the slope and Nick was on the haul and shuttle.
I started to clear away the larger of the lumps of rock, reducing them in size with the lump hammer, as necessary. Beforehand, we had sorted out a skip making the clearing of fragmented rock easier. It wasn't too long before we had cleared enough to squeeze forward into the open space beyond.
With just a bit more digging, I was through. I am going to claim the term 'micro-breakthrough'. About 3-metres length, a vertical range 1.5 to 2-metres (there is some sediment to be removed). There was enough space for me to, just about, stand, and after clearing away a few lumps of degraded calcite and assorted stones out of the way, could peer into another c.2-metres of [probably] caveable passage, but access is too constricted. It's heading c.NE and air movement is good. The removal of a block of conglomerate should enable a better look ahead, but clearing the pile of spoil already created is the priority.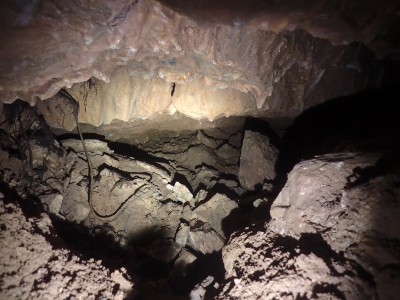 Jake and Nick both came forward to look at the prospects, and Matt came down to the end too.
Then we returned to the task of clearing spoil. I bagged up the gravel and sediment, while the others moved the stockpile of rock to the entrance.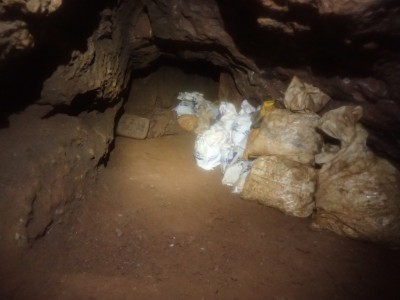 There is a lot of spoil to clear out of the cave, plenty to keep us busy for the next few sessions.